To obtain certain higher level or exclusive cards in Million Live, the player must purchase them with real money. Because Million Live is a Japanese game, it may seem difficult to navigate the GREE Coins website, but in fact it is very simple and it is even possible to purchase Coins with currency other than yen.
This guide serves to walk players through several different methods of purchasing GREE Coins to use in both the Shop and on the Platinum Gasha.
Methods
Several methods to purchasing GREE Coins are available from the main GREE Coins page. A translated list of them follows; please note that this guide will only outline purchasing via Paypal and a prepaid card.
Note: GREE Coins contains a minor protection service. If your account indicates that you are less than 20 years old, you will only be able to purchase 10,000 yen (~100 USD, ~76 Euro) worth of GREE Coins every calendar month. Please be mindful of your purchases.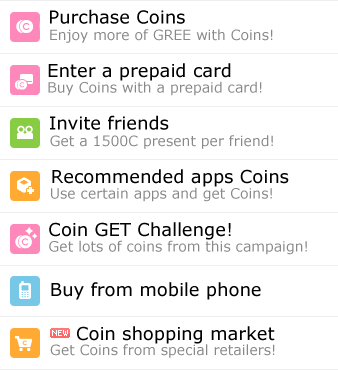 Paypal
GREE will allow players to pay with Paypal, a universal service that converts currency from any corner of the world. Players with a Paypal account can use it to instantly obtain GREE Coins.
To begin, hit the "spin gasha" button on the platinum gasha. From there, the player will be told that they do not have enough coins to purchase the item, and be redirected to the GREE Coins website from the "purchase GREE Coins" button. From there, hit the first link on the page to purchase Coins. This is the "Purchase Coins" button.
The server will now ask you which payment method you would like to select. To pay with Paypal, choose the last option. (The credit card method requires you to have a Japanese credit card, so it will not work.)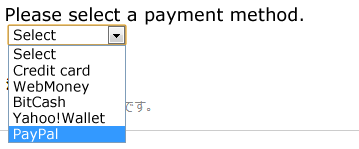 After you select Paypal, you will be presented with several different Coin packages. Choose the amount of Coins you would like to purchase, and note the prices--although they are in yen, when you are redirected to Paypal the conversion in your currency of choice will be written down.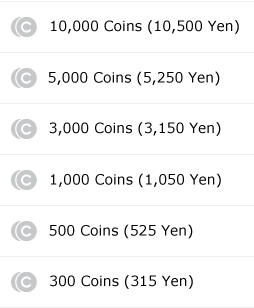 Finally, selecting the amount of Coins you wish to purchase will redirect the server to the Paypal server, prompting you to log in. Once you confirm the payment, the Coins will be added to your account and you will be able to use them immediately to purchase items in the shop or platinum cards.
After GREE connects your Paypal account to your GREE account, you will not have to log in via Paypal again; instead, it will be a simple matter of verifying the purchase on the GREE page without being redirected.
Prepaid Card
Purchasing GREE Coins with prepaid cards does not go through the server itself, but instead an outside retailer that will either send the physical card to an address you indicate or simply the code through e-mail.
Several retailers that sell Japanese service cards also contain GREE Prepaid Coin cards, such as Japan Codes. Please be sure to check out their pricing and policies on how the card will be delivered and payed for.
Once you obtain a code, it is a simple matter of inputting it into the site before your Coins become available for use.
Known Issues
Please note that if you verify your mobile phone, you may not be able to purchase GREE Coins on your computer. However, it may be possible to purchase Coins on your mobile phone; access the Million Live game via the main GREE Japan page and then follow the instructions as normal.