Home
Talk

0
521pages on
this wiki
Welcome
Announcements
The Idolm@ster Million Live! 2nd LIVE ENJOY HARMONY will be held
Announced at the broadcast of Idolm@ster the end of the year special program "Yuku M@S kuru M@S" here the details of the Idolm@ster Million Live!" 2nd LIVE! ENJOY HARMONY
The performance will be held on:
Performer List :
For more information, please check this site.
-Minaachan- 5:12, January 1st, 2015 (UTC)
Game Updates
Idolm@ster Million Live! (Event Updates)
January 4, 2015

New Year's Eve! Idol Grand Prix of Gourmet Meals Start! SR is Azusa! & Military 43rd Story Published.
Scheduled Period :

Starting Friday 26 December at 17:00, and will be ended on Monday 5 January at 23:59.
"A dish is affection. A beautiful taste come from the skill and heart of beautiful cook".
---
Idolm@ster Million Live! (Gasha Campaigns)
January 4, 2015

Happy New Year! New Year's Shrine Visit Live Gasha
Start Date: December 31, 2014
End Date: January 16, 2014
This Gasha gave 3 free tickets, one for each of the 3 days logged in before the Gasha.
Prize List :
Featured Video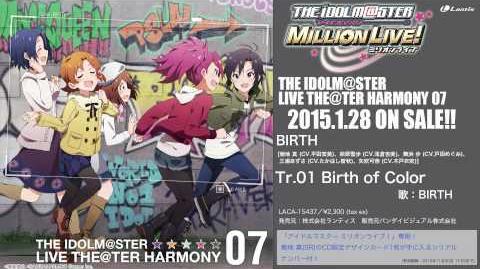 THE IDOLM@STER LIVE THEATER HARMONY 07 & 08 PV

Latest Album
New Card
Quick Link
Poll
Poll Edition: December 31, 2014 - January 31th, 2015
Which one your favourite Millionstars Vocal Idol voice?

Main Page ver 1.1, last edit by Minaachan on 4:43, December 31, 2014 (UTC).