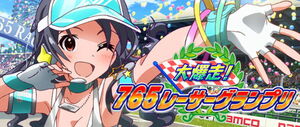 Roaring Sound! 765 Race Grand Prix
(大爆走!765レーサーグランプリ,
dai bakusou! 765 reesaa guran puri
), also known as 765 Grand Prix, is the sixth
event
in Million Live. Based around a race event with the idols, it was a purely stamina-based event with the use of Racer Points to obtain prizes and place in the event rankings. Returning to this event from
Showdown!! Idol Castle
is Daily Missions.
This event ran from 2013-05-09 to 2013-05-20.
Basic Event Flow
Edit
For a full description of this event type, see Stamina event.
765 Grand Prix is an event that uses stamina only to advance through event areas and obtain rewards. Like Raise the Curtain! Rocket Start Live, stamina battles return to grant larger amounts of Racer Points than idol encounters alone. Racer points are used to place players in the rankings and obtain event-only rewards.
If a coworker is currently playing in the event area that the player is on, they will obtain a 1.5x bonus to the event area's completion level.
Daily Missions
Edit
Daily Missions return from Showdown!! Idol Castle to grant additional items when a certain amount of Racer Points are obtained per day.
Rewards are given out to players upon completing event areas, when a certain number of Racer Points are obtained, and when the event is completed. Racer Points and area clear prizes are obtained immediately, whereas event completion prizes are given out when the event ends.
Halftime Ranking
Edit
Players who score within the top 3000 during the Halftime Rankings will obtain the SR card Racing Live - Fukuda Noriko. Depending on the placement in the rankings, players can also receive Level Up - Otonashi Kotori cards, My Spark Drink (Mini), and Bonus Time clocks.
Completion Ranking
Edit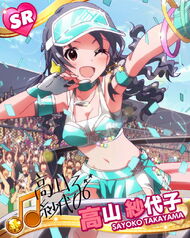 Players who score within the top 1000, as well as certain "lucky" numbers (exactly 2000, 3000, 4000, 5000, and 10000 in the rankings) will obtain the card
Victory Lap - Takayama Sayoko
. Players who also score within the top 100 will receive another copy of the same card to easily awaken it to
True Face of an Honor Student - Takayama Sayoko
. Other items given out include money,
Gasha
points and tickets,
Level Up - Otonashi Kotori
cards, and
Spark Drinks
.
Racer Point Rewards
Edit
Among other rewards, such as energy drinks and money, players who obtain 1000000 Racer Points will be granted an additional event-only reward in the form of Racing Live - Fukuda Noriko.
Area Clear Rewards
Edit
Event-exclusive cards can be obtained by completing business areas and completing business battles.
Oval Classic Area: Heart-pounding Moments Before the Start - Kousaka Umi
Hover Line Area: Grid Girl - Kitazawa Shiho
Dream Circuit Area: Surprising Outside Race - Miura Azusa
Future City Area: Circuit Flower - Ibuki Tsubasa
Once the Future City area is completed, the endless area is unlocked. This endless area gives players the chance to obtain the event-only HN cards 765 Race Grand Prix - Kitakami Reika, 765 Race Grand Prix - Makabe Mizuki, and 765 Race Grand Prix - Takatsuki Yayoi. In addition, from 5/13 and on, the endless area also has a small chance of granting the player the HR card Little Devil Ready for the Circuit - Hoshii Miki.
Ad blocker interference detected!
Wikia is a free-to-use site that makes money from advertising. We have a modified experience for viewers using ad blockers

Wikia is not accessible if you've made further modifications. Remove the custom ad blocker rule(s) and the page will load as expected.