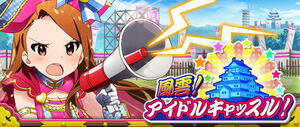 Showdown!! Idol Castle (風雲!アイドルキャスル, fuun! aidoru kasuru), also known as Idol Castle, is the fifth event in The Idolm@ster Million Live. Based around the Million Stars idols battling against each other in a summer games, field day-type format, it is primarily a battle-based event that uses Castle Points to determine ranking and prize levels. Also exclusive to this event is Daily Missions.
This event ran from 2013-04-25 to 2013-05-09.
Basic Event Flow
Edit
For a full description of this event type, see Battle event.
Idol Castle is primarily a festival-type event that uses the player's BP and deck strength to attack other idol units exclusive to the event. By winning these festivals, players will obtain Castle Points, which are used to place them in the rankings and gain prizes as they rack up points.
Daily Missions
Edit
Daily Missions are specific to the Idol Castle event. Daily Missions require the player to obtain a certain number of Castle Points every day. By completing the requirement, which can be seen on the Daily Missions page, the player will obtain an item that can be used in the event to get further ahead.
Daily Mission Prizes
Different rewards are given out to each player upon completion and upon obtaining different levels of Castle Points. Castle Point rewards are obtained immediately, whereas ranking rewards are given out when the event is completed.
Halftime Ranking
Edit
Players who score within the top 3000 of the ranks in the Halftime Rankings will obtain the HR card Boldly Attack! - Kasuga Mirai. Depending on the placement in the rankings, the player can also receive Level Up - Otonashi Kotori cards, My Battle Candy (Mini), and Platinum Hearts.
Completion Ranking
Edit
Players who score within the top 1000, as well as certain "lucky" numbers (exactly 2000, 3000, 4000, 5000, and 10000 in the rankings) will obtain the card
Idol Control Tower - Minase Iori
. Players who score within the top 100 will obtain a second copy of this card to easily evolve it into
Princess of Victory - Minase Iori
. Other items given out include money,
Gasha
points and tickets,
Level Up - Otonashi Kotori
cards, and the third event voice mail from
Tokoro Megumi
.
Castle Point Rewards
Edit
Among other rewards, such as battle items and energy drinks, players who obtain a certain number of Castle Points will obtain the following event-only rewards:
Ad blocker interference detected!
Wikia is a free-to-use site that makes money from advertising. We have a modified experience for viewers using ad blockers

Wikia is not accessible if you've made further modifications. Remove the custom ad blocker rule(s) and the page will load as expected.