Summer Evening! Idol Summer Festival
(納涼!アイドル夏祭り,
nouryou! aidoru natsu matsuri
), also known as Idol Summer Festival, is the eleventh
event
in Million Live. Themed around the idols of 765 Pro attending a summer festival, it is a purely stamina-based event with the use of Summer Festival Points to obtain prizes and place in the event rankings.
This event ran from 2013-07-11 to 2013-07-22.
Basic Event Flow
Edit
For a full description of this event type, see Stamina event.
Idol Summer Festival is a stamina-based audition battle style event where players obtain Summer Festival Points purely through their stamina currently allotted in-game, using both audition battles and Idol Encounters to boost Summer Festival Points. Summer Festival Points place the players in the ranking to obtain exclusive event-only rewards.
If a coworker is currently playing in the event area that the player is on, they will obtain a 1.5x bonus to the event area's completion level while playing through it.
Daily Missions
Edit
Daily Missions return from past events to grant additional items when a certain amount of Summer Festival Points are obtained per day.
Rewards are given out to players upon completing event areas, when a certain number of Summer Festival Points are obtained, and when the event is completed. Summer Festival Points and area clear prizes are obtained immediately, whereas event completion prizes are given out when the event ends.
Halftime Ranking
Edit
Players who score within the top 3000 during the Halftime Rankings will obtain the SR card Sparkling Summer Night - Nakatani Iku. Depending on the placement in the rankings, players can also receive Level Up - Otonashi Kotori cards, My Spark Drink (Mini), and Bonus Time clocks.
Completion Ranking
Edit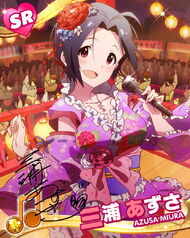 Players who score within the top 1000, as well as certain "lucky" numbers (exactly 2000, 3000, 4000, 5000, and 10000 in the rankings) will obtain the card
Heartful Voice - Miura Azusa
. Players who also score within the top 100 will receive another copy of the same card to easily awaken it to
Lost Mezzanine Spot - Miura Azusa
. Other items given out include money,
Gasha
points and tickets,
Level Up - Otonashi Kotori
cards, and
Spark Drinks
.
Summer Festival Point Rewards
Edit
Among other rewards, such as energy drinks and money, players who obtain 1400000 Summer Festival Points will be granted an additional event-only reward in the form of Sparkling Summer Night - Nakatani Iku.
In this event, certain point totals grant five copies of the event-only HN cards. At 765 points, players will obtain Idol Summer Festival Kisaragi Chihaya; at 7650 points, they will obtain Idol Summer Festival Momose Rio; and at 76500 points, they will obtain Idol Summer Festival Suou Momoko.
Area Clear Rewards
Edit
Event-exclusive cards can be obtained by completing business areas and completing business battles.
Once the Large Fireworks Stage area is completed, the endless area is unlocked. Audition battles encountered in the endless area have a small chance of dropping the card Circling Around Everyone - Ogami Tamaki.
Ad blocker interference detected!
Wikia is a free-to-use site that makes money from advertising. We have a modified experience for viewers using ad blockers

Wikia is not accessible if you've made further modifications. Remove the custom ad blocker rule(s) and the page will load as expected.