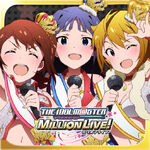 THE iDOLM@STER: Million Live! (アイドルマスター ミリオンライブ!, Aidoru Masutaa Mirion Raibu!?) is a social media game that released on March 23, 2013 by GREE. It features the 765PRO idols and 37 new idols. The voice actresses of the idols was published on February 26, 2013.
The Android version app released on October 21, 2014
The iOS version app released on December 20, 2014.
The game's service was officially ended on March 19, 2018., making THE iDOLM@STER MILLION LIVE! THEATER DAYS the franchise's main game.
Announcement
At the end of October 2017, an announcement regarding the future of THE iDOLM@STER: Million Live! (Greemas) was posted in game. To prepare for the end of service of the game in the near future, the game will stop updating and start disabling features from December 2017 onwards.
The final event for Greemas titled Thank You! Million Live Final Party! will be held on the middle of November until the end of the month. A finale campaign titled TH@NK YOU FOREVER!! will be held from 31 October 2017, and details will be announced in game then.
List of services ending:
Platinum paid gasha will end at 1 December 2017 at 9:59 JST.
Sales for shop event sets will end at 30 November 2017 at 23:59 JST.
Comeback Mail Campaign will end at 30 November 2017 at 23:59 JST.
Invitation campaign will end at 1 December 2017 at 9:59 JST.
President Missions will end at 1 December 2017 at 9:59 JST.
List of updates that will stop:
Audio Room won't be renewed after 30 November 2017 at 23:59 JST.
Dengeki Mao Comic previews won't be renewed after 30 November 2017 at 23:59
Birthday Celebration Messages will end after Sayoko's birthday on 29 December 2017.
The last batch of character voices will be added at the middle of November 2017
List of changes:
Live Battle Theater Kuji will be changed from HR points to Star Medals.
The rewards for jobs will be changed to Million Jewels.
Login Bonuses will be changed to give out 300 Million Jewels + 30 Fan Letters + 30 Fan
Presents from 31 October onwards.
Signing Up
Signing up for Million Live seems daunting at first, but in principle is quite simple. The following article will explain how to sign up for the game and still live in a place other than in Japan, and allow you to play the game on your phone and computer.
What you need:
An e-mail address (any e-mail will do)
A Japanese VPN (Virtual Private Network)
An add-on for your browser of choice that spoofs your user agent
Obtaining a Japanese VPN
This is the more tricky step, but there are many options out there to obtain a VPN. The purpose is not to obtain a VPN specifically, but something that can spoof your IP address as living in Japan. Find something that can do that. One example of a VPN is FlyVPN.
If you follow this tutorial exactly, you will no longer need the VPN after you have finished signing up. As long as you make sure that your country of choice is in Japan, you will have no problems playing Million Live.
User Agent Spoof
Any kind of add-on for your browser that spoofs your user-agent (that is, makes the site believe that you are running on an iPhone, iPad, Android, or any other type of mobile device) will work for Million Live. One such example, for Chrome, is cTouch r2 Filesystem.
When you have found something to achieve the same goal in your browser of choice, set the useragent to either iPhone or iPad (Million Live works with both).
Signing Up for Gree
The next step in the process is to sign up for Gree, where Idolm@ster Million Live is hosted. Gree has both an English and a Japanese site, but either of them can be used to sign up for now. Use this link, from the mobile site, to sign up, and make sure that both your user agent spoof and VPN is active. This will send an e-mail to your inbox with instructions to activate your e-mail. Once your e-mail is activated, you can play the game.
To check your country of residence, view your settings here. This will show whether you are in Japan or not, and check whether you can play Million Live. (The prefecture you are in doesn't matter.)
Playing the Game
The page to access the game is here. Once you play through the tutorial, you should be able to play the game without any problems, even if the VPN you have is not currently active. (However, you will have to play with the user agent spoofed every time.) Bookmark this page to play the game from now on.
If you have an iPhone, iPad, etc, you can also play the game on your phone, as long as your phone number has not been verified. Not verifying a phone number on your account still means you can play the game, but you cannot trade with other people (if one side's phone number is not verified, the game will not allow you to trade).
Verifying a Phone Number (Optional)
Although this step is optional to simply play, it is necessary if you want to trade in the game. However, it is possible to verify with a cell phone number outside of Japan, you will just have to set your location to Japan again using the VPN you obtained.
To verify your account, first go to this page. Select the country that you actually live in from the drop-down list, and input your phone number. Confirm the number. You will then obtain a text message with your activation code; input that activation code to verify your phone number. (This number expires after 15 minutes, so input it right away.)
If you live outside of Japan, Gree will automatically set your country of residence to wherever your phone number is from, locking you out of Million Live. To get around this, you will have to change your location using your VPN again.
Sign in to your VPN again and go to the settings page here. Select your country of residence as Japan, and again, the prefecture you choose doesn't matter. You cannot perform this step without your VPN, as the only countries that will appear are the origin of your cell phone number and your current IP. Once this is done, log out. You will no longer need the VPN to play the game again. All of the previously locked functions, such as trade, will be open for you to use.
Known Issues
If you verify your account, you may not be able to access the drop-down menu from the main Gree mobile site. This seems to be a global issue with Gree, so there is nothing that can be done to circumvent it at the moment.
Also, along with being unable to play the game on your mobile phone, you may find it impossible to buy certain items from the Gasha or Shop at this time. Any updates on these matters will be edited in as they appear.
Characters
More details here
In addition to 13 idols appearing in THE IDOLM@STER original series, 37 new characters will appear in this work. In addition, Kotori Otonashi will appear as a support role for the player.
As shown in the official site, in the idol introduction column, it is possible to listen to each self introduction of idol and view the signature, and furthermore can see the rough expression's sketches of newly appearing characters.
Music
More details here
THE iDOLM@STER: Million Live! had it own CD products feature songs sung by both the 765PRO ALLSTARS and the new 765 MILLIONSTARS idols called LIVE THE@TER series.
A soundtrack CD series first released in 2013 and published by Lantis Co., Ltd. These CDs are still being released and, if the player orders these CDs, they can obtain special exclusive cards from a serial number in the CD package.
Radio
THE IDOLM@STER MillionRADIO (アイドルマスター ミリオンラジオ!, THE IDOLM@STER MillionRADIO?) is the title of radio program which is distributed every Thursday from May 3, 2013 at 21 o'clock on Nico Nico Live Broadcasting.
The radio personality are Yamazaki Haruka, Tadokoro Azusa, and Asakura Momo. Those three people often nicknamed "Pyonkoromochi".
A pilot version was broadcasted on April 26, 2013. A bonus program also delivered to members' channel of Niko Niko Channel after this distribution.
Publications
Manga
Million Comic Theater
A five-frame manga published in game from March 26, 2014. The author is mizuki. From the eighth episode, the name logo of characters appeared like "Cinderella Girls Theater" of "THE iDOLM@STER: Cinderella Girls".
THE IDOLM@STER MILLION LIVE!
A manga series authorized by Snow Moji, serialization starts from August 2014 to October 2016 at "Gessan" (Shogakukan). A total of 5 volumes. Even in the game it is able to reading the first few pages.
In the series version, a question received from readers in conjunction with official Twitter "Question to the theater idol" was posted in the pillar part.
THE IDOLM@STER MILLION LIVE! BACKSTAGE
A manga serialized from September 2014 to November 2016 at "Manga 4koma Palette" (Ichijinsha) authorized by mizuki.
The main characters are Mirai, Shizuka, Tsubasa, and Serika, with different theater group idols appear each time around them. On the other hand, "765PRO ALLSTARS" members rarely appear.
THE IDOLM@STER MILLION LIVE! Road to stage
A manga begin serialization every two month from December 2016 at "Manga 4koma Palette" (Ichijinsha) authorized by mizuki. This is a renewal form of "BACKSTAGE" above.
THE IDOLM@STER MILLION LIVE! Blooming Clover
A manga series with Yabuki Kana as the main heroine. The 0th story was published in the "Dengeki Maoh" (KADOKAWA · ASCII · Media Works) April issue of 2017, and serialization started from the same May issue. The author is Inayama Kakuya.
THE IDOLM@STER MILLION LIVE! THEATER DAYS Brand New Song
A manga series authorized by ima. Prologue version was published in "vol.42" at "Febri" (Ichijinsha), and serialization started from vol.43.
Anthology
THE IDOLM@STER MILLION LIVE! Comic Anthology
Anthology comic was released by Ichijinsha's DNA Media Comics.
Magazine
THE IDOLM@STER MILLION LIVE! MAGAZINE
An irregularly published magazine issued by Ichijinsha. It contains interviews with staff and cast members, also illustrations, comics, etc.
Art Book
THE IDOLM@STER MILLION LIVE! CARD VISUAL COLLECTION
A collection of pictures containing card illustrations that appear in the game. There are total of three volumes already. The selling agency is Aniplex.
External Links
Official Site
Official Lantis Site
Official Twitter
Official Lantis Twitter
Official Gessan Twitter
NicoNico Channel